ANTIGEN & VACCINE ALERT !
Shipping vaccines and antigen at the flat rate of $59.95 for Express mail shipment method only!
We can not guarantee vaccines once they leave our warehouse.
Welcome to
Hakes' Twin City Poultry Supplies, LLC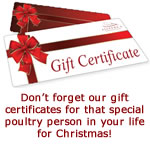 Hakes' Twin City Poultry Supplies is a family-owned and operated business, specializing in poultry, pigeon, game-bird, and game-fowl supplies. We take great pride in offering our customers the best products for Poultry, Pigeon, Game Birds & Gamefowl Supplies on the market at the most affordable prices. We carry a full line of products from Brower, Miller, GQF, Kuhl, Strombergs, Barron's, GP, Dubois, Durvet, Chevita, National Band, A&A, Farm Inovators, Smisdon and more.
Twin City Supply has been developed from a strong sense of Christian integrity, from many years of experience, and from an excellent knowledge of the needs of poultry, pigeons, game-birds, and game-fowls. It is with great pride that we offer to you what we believe to be the most excellent products at very affordable prices.
Shipping: We still ship 5 days a week! Flat Rate Priority Shipping at $8.95 Via USPS (2 to 3 day delivery time) for Lower 48 States Only! (Excluding Brooders & Cabinet Incubators & Cabinet Metal Racks for setting eggs) Also Alaska, Hawaii and US Territories only $18.95.